. . .I'm definitely really very bad! It has been far too long since my last post. So long in fact that we've already transitioned into winter!!! Although I'm not a fan of winter, I do love seeing my kids all bundled up in cozy warm winter clothes. Here is Madeline waiting for her ride to school when we got our first snow. It was on November 30th. Isn't she just the most adorable snow owl you've ever seen? Tara is MIA because she was in the house sick with her SECOND bout of strep throat. Another wonderful thing about winter, kids that get sick often (which mine do!).
And here's the first snowman of the season. See the "snow bunny" Tara's holding?
And of course there are the chickens. This is their first winter after all. And they really don't know quite what to think of it. Tara video taped their first experience.
On this day, after we let them out, we left them alone outside to forage. I came out about 30 minutes later to give them a treat. I called for the girls and Dixie and Daisy came run/flying to me. Jasmine did not. I looked around and found her frozen in the middle of the lawn in the snow. Not literally frozen, but frozen (shocked) frozen. I called for her to come and she did not move a muscle. Not even her head. I called to her again and nothing. So I walked over, picked her up and carried her over to the treats. She really did NOT know what to think of the snow.
At this point, I have decided to keep the Henny Penny's locked in their chicken run. Since there aren't really any bugs for them to eat, I have found that they have been going further and further from home to forage which only puts them at risk for a predator to get them. So until spring, their free range days are going to be extremely limited. I feel bad about it, but I don't want to lose anyone either. I'm also going to put clear tarp around the run so it doesn't get buried in snow all winter.
On another note, the house is beginning to look a lot like Christmas. The girls and I made little elf ornaments and they keep showing up in all of my Christmas displays.
Here's mine:
Yes, those are eggs my little elf is sitting on. Wonderful healthy farm fresh chicken eggs. Our girls have been giving us 14 eggs a week, and I have not added any artificial light. They are laying wonderfully! Their eggs shells are smooth, very strong and silky. I think it's because of the organic feed that I spoil them with.
Here is Madeline's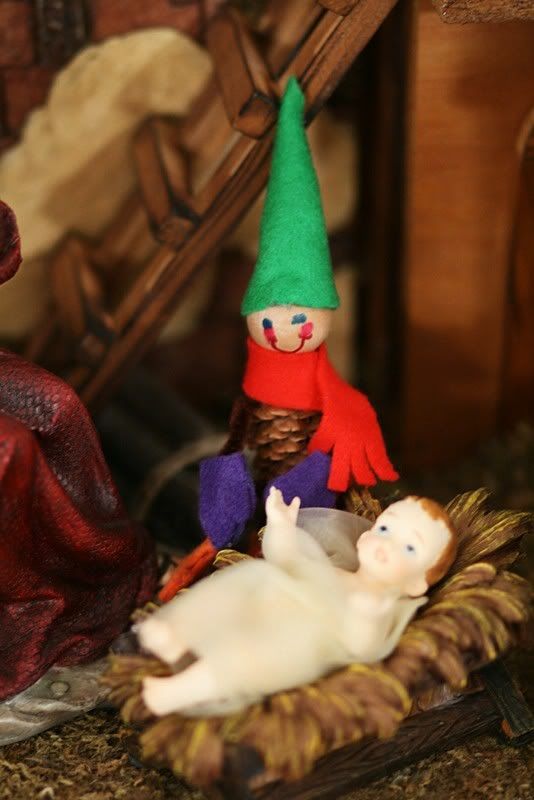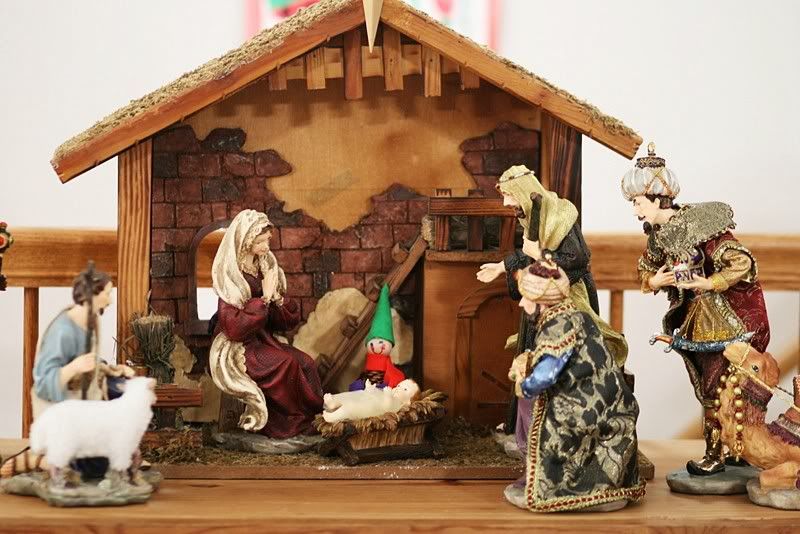 And finally, here is Tara's: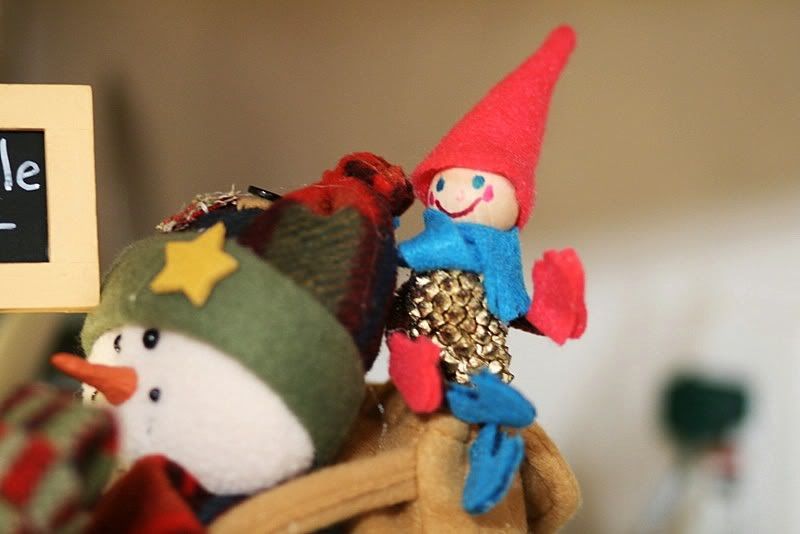 Madeline (while she was home sick with strep) also made one for her Teacher and Teacher assistant. With a little Mod Podge and glitter, she added some bling to the pine cone bodies. They will sparkle so pretty when hung on the tree.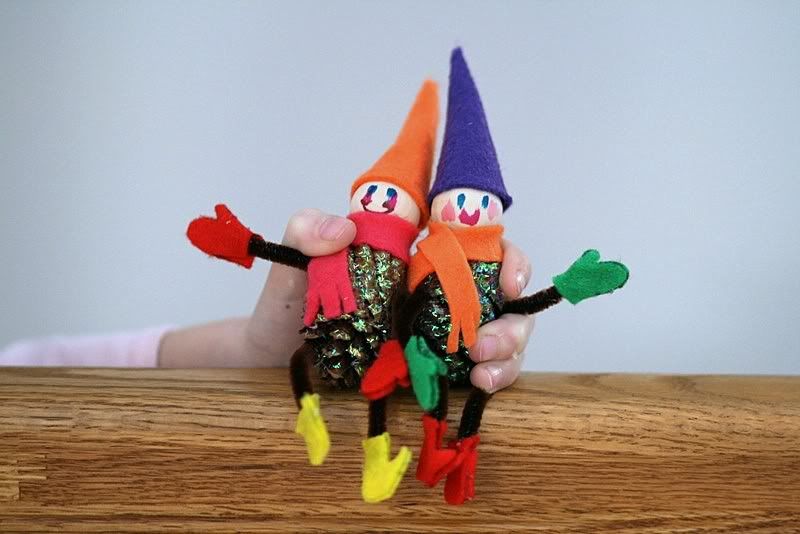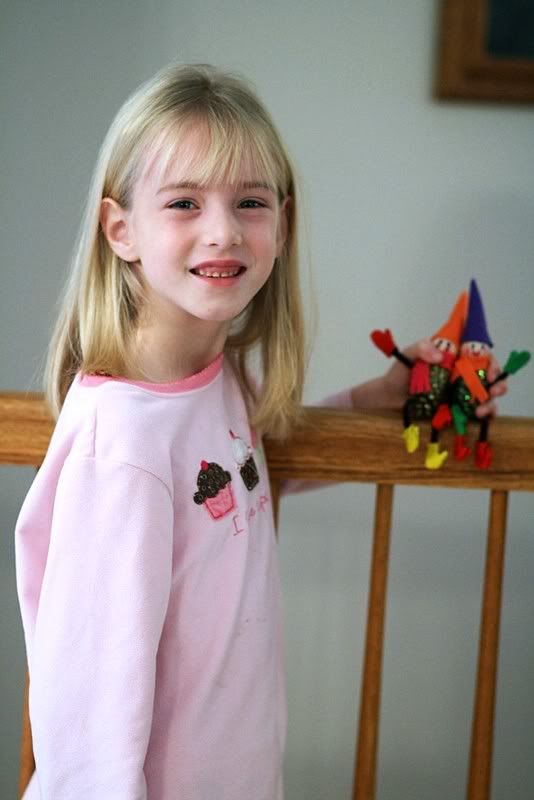 What perfect little Christmas gifts. Tara is going to make some for her teachers as well. Cute little elves made with love which will be treasured for years to come. All we have left to do is string some pretty embroidery floss in the top of the hats so they can be hung on the tree. I just love these little guys. I got the idea for making them
HERE
. I saw these after Christmas last year, and made certain that the girls and I made them for ourselves this year. We'll be busy making more as Christmas draws near.
Now just one more picture while I wrap up this post. Let me introduce you to Rudolph the Red Nose "White Tail".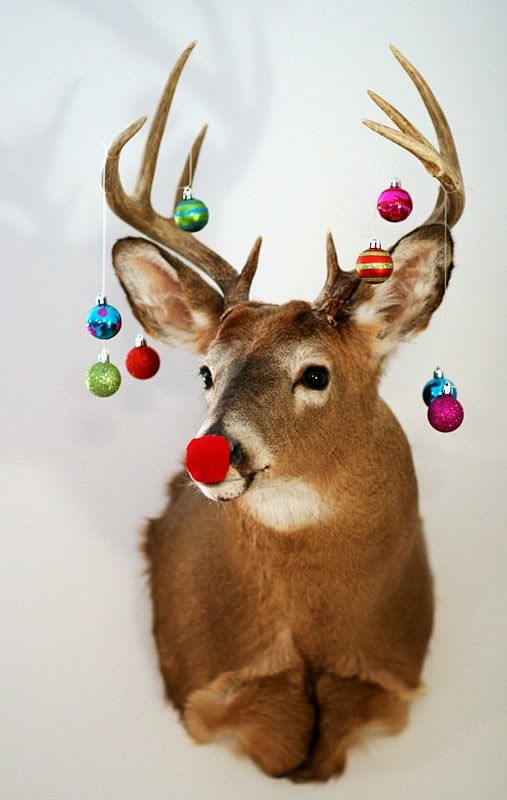 It's the only time of year that I like seeing this thing hanging on my wall.
I promise that I will be a better blogger!!